Pier One Polymers, Inc. was established in 1999 by owner Michael Pier when he decided to take his nearly 20 years of plastics experience to work for himself. Mr. Pier's plastics career began in 1980 in compounding and led him to positions in molding, R&D, and then into management. As plant engineer of Michael Day Enterprises in the early 1990s, he was a key asset in the design and layout of the expansion into the 200,000 square foot facility that is now being operated by Radici Plastics in Ohio. He then took his knowledge to a Michigan compounder as the plant manager and helped grow that company through expertise and innovation while developing new formulations to utilize the ever growing regrind market.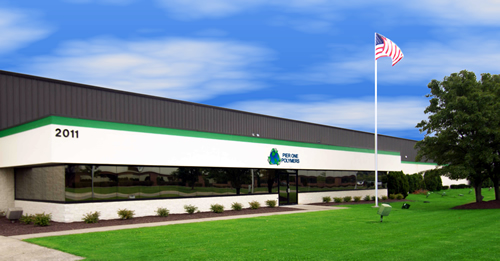 All of these lessons and experiences led him to begin Pier One Polymers with an initial goal of producing high quality nylon products using recycled material. The goal was to not just reprocess regrind, but to use different additives, stabilizers, modifiers, anti-oxidants, and fillers to turn the regrind into near prime and even prime quality finished products. Over the past 15 years, we have continued to stay current with the ever changing technologies and innovations to improve upon the recycled content lines and expand into more prime products. Today, our trademark Maxamid nylons provide a full line of 6 and 66 products with both prime and recycled content.
Our growth into prime resins has led to direct partnerships with the same manufacturers of nylon 6 and 66 as the other major nylon producers in the world. By utilizing the same feed stocks and technologies as the other prime producers, we are able to produce the same consistent quality products as producers such as DuPont and BASF and have competed head to head with them on many programs over the years. With the full support and resin backing of our suppliers, we are poised to compete for years to come.
Although the largest portion of our production is nylon, we do produce and stock a full line of prime and recycled acetal products. These include both homopolymer and copolymer resins as well as filled, toughened, lubricated, and low wear products. In addition to the acetal and nylon, we produce or stock many other prime products ongoing which include, PP, PC, PBT, ABS, PC/PBT, PC/ABS, TPE and TPU with varying fillers and modifiers as an application may dictate needing. The combined expertise of our management and production staff makes any application a possibility for us.
One of our niche areas is specialty resins and solving problems for our customers. We have worked directly with OEMs on programs to replace hazardous or carcinogenetic fillers with safer products without losing the effectiveness of the product. Our hands on approach to problem solving and customer service has allowed us to grow these relationships and become the go to company for many new products. Our responsiveness and turnaround time on samples and special requests is what helps to set us apart from the major producers of the world. Our commitment to our customers is not just to supply their materials, but also to stock for them in anticipation of their needs so when an emergency arrives, we are there to support it immediately.